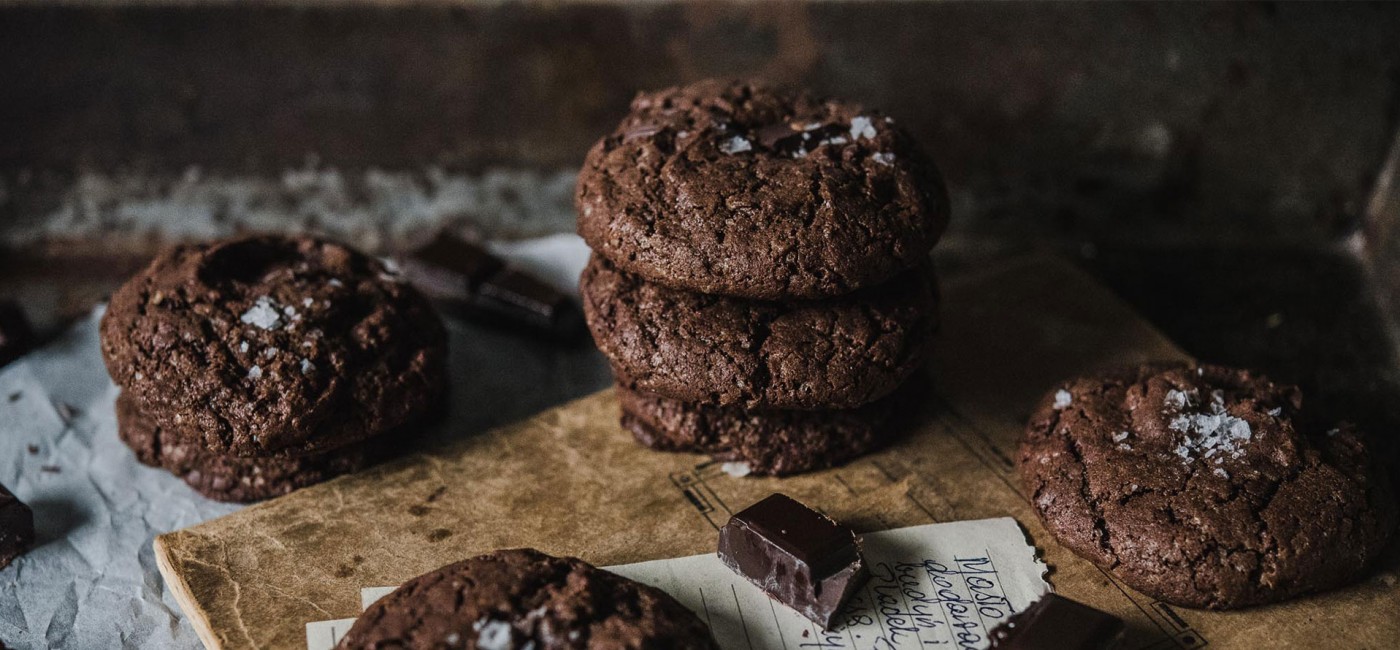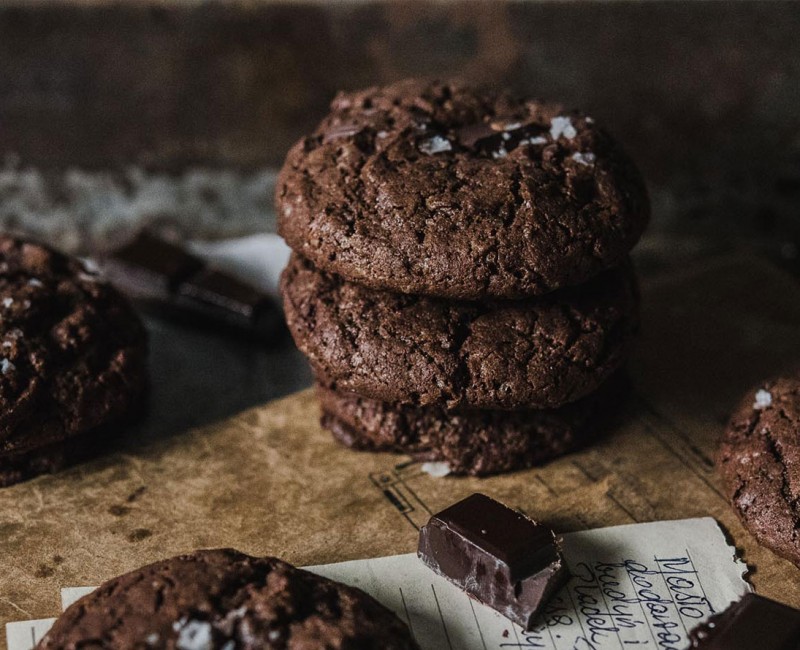 Chocolate Cookies with Chocolate Chunks and Salt Flakes {Vegan}
January 05, 2018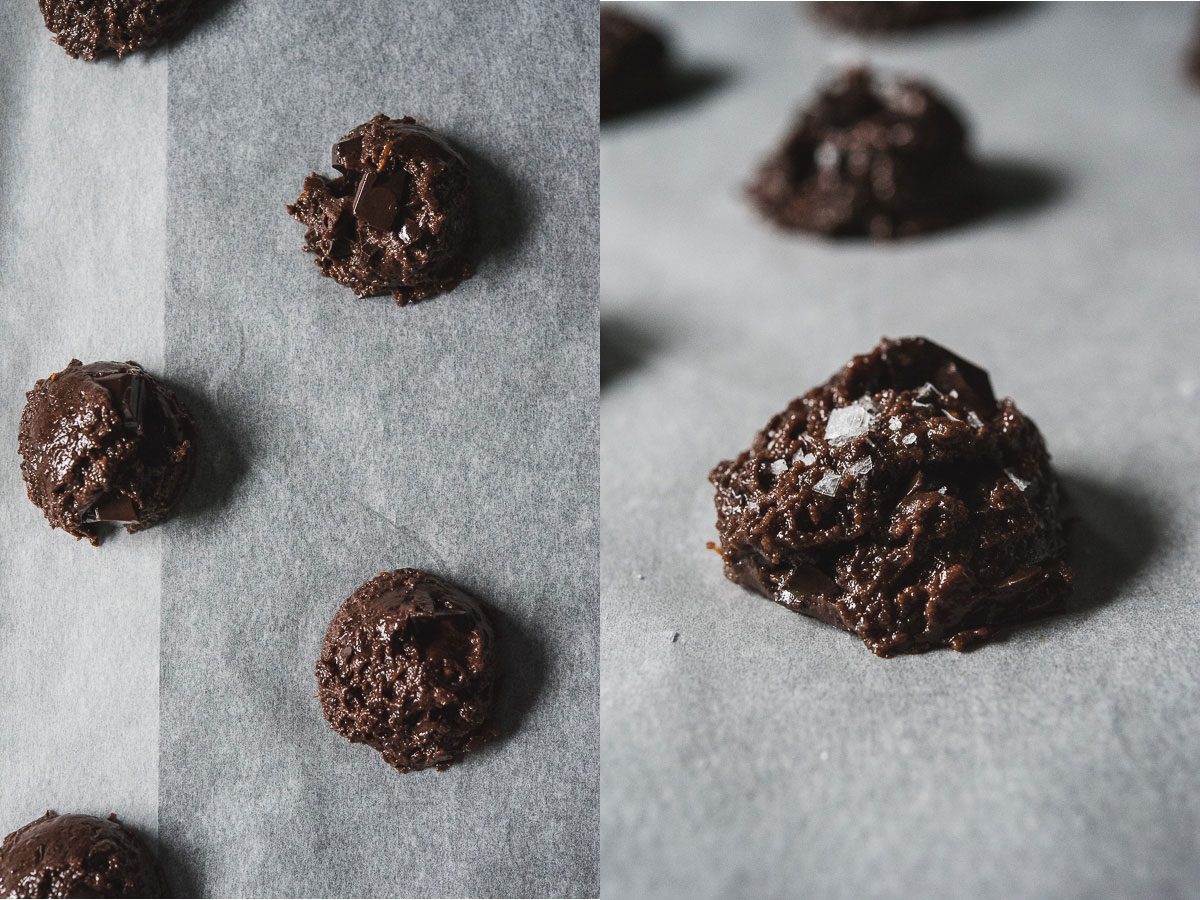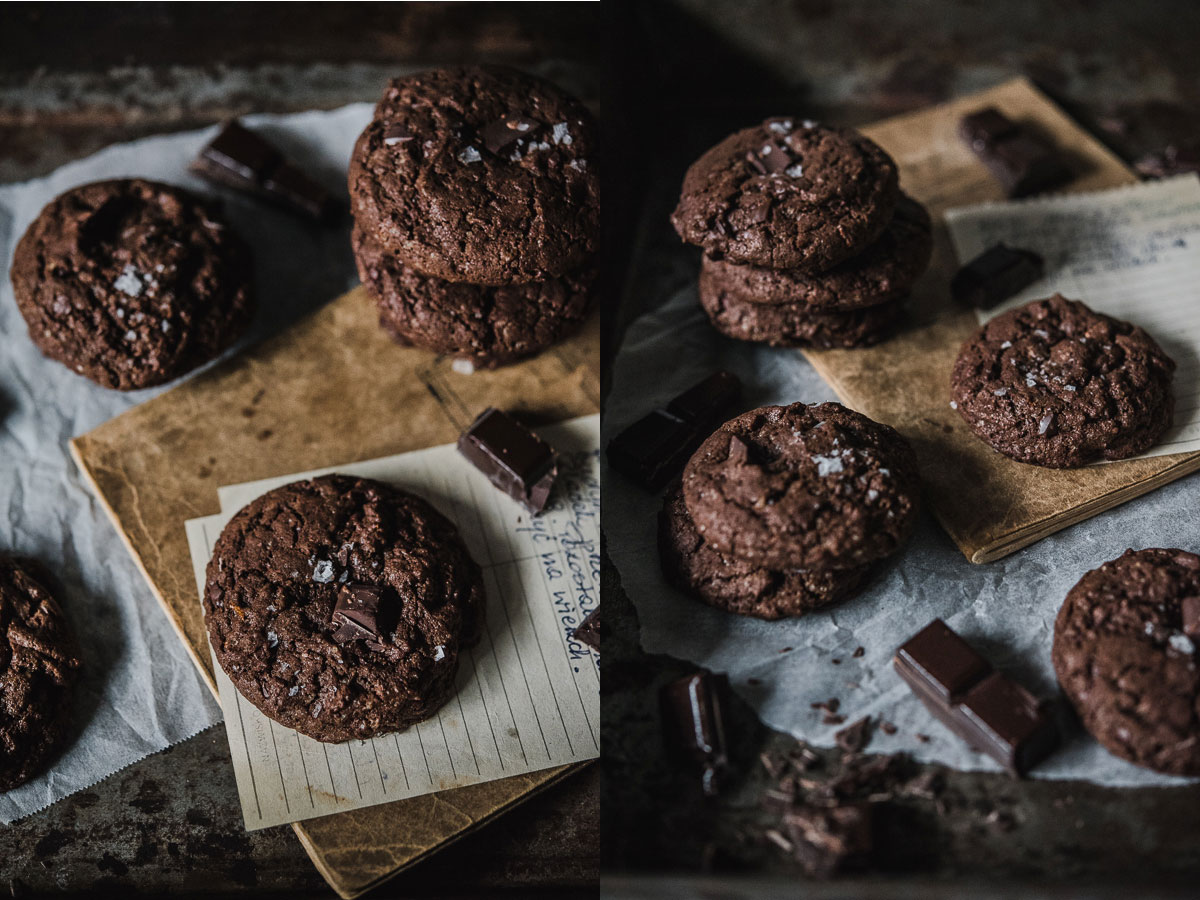 Makes about 35 cookies
1/2 cup good quality extra virgin olive oil
1/3 cup unsweetened non-dairy milk (I used soy milk)
2/3 cup dark brown sugar, packed
1/3 cup granulated sugar
1 tablespoon plus 1 teaspoon tapioca flour
1 teaspoon pure vanilla extract
1 1/2 cups all purpose flour, divided
1/3 cup Dutch process cocoa powder
1/2 teaspoon baking soda
1/2 teaspoon baking powder
1 cup (175 grams) vegan bittersweet chocolate chips
about 1/2 tablespoon sea saly flakes, for sprinkling
METHOD
Preheat the oven to 180ºC and line 2 baking sheets with parchment paper.
In a large bowl, beat together the olive oil, non-dairy milk, brown sugar, granulated sugar, and tapioca flour, and vanilla extract with a fork for about 2 minutes until the mixture thickens and looks like caramel.
Add 1 cup of the all purpose flour, cocoa powder, baking soda, baking powder, and salt and mix until combined.
Mix in the remaining 1/2 cup of the flour.
Stir in the chocolate chips.
Using a cookie scoop, drop balls of the cookie dough onto the prepared baking sheets one inch apart. The dough will be a little but greasy, so you may need to use your fingers to push the dough together into balls.
Sprinkle the dough with a little bit of sea salt flakes and bake them for about 8 minutes (9-10 minutes for a crisper cookie.
Cool completely on wire racks.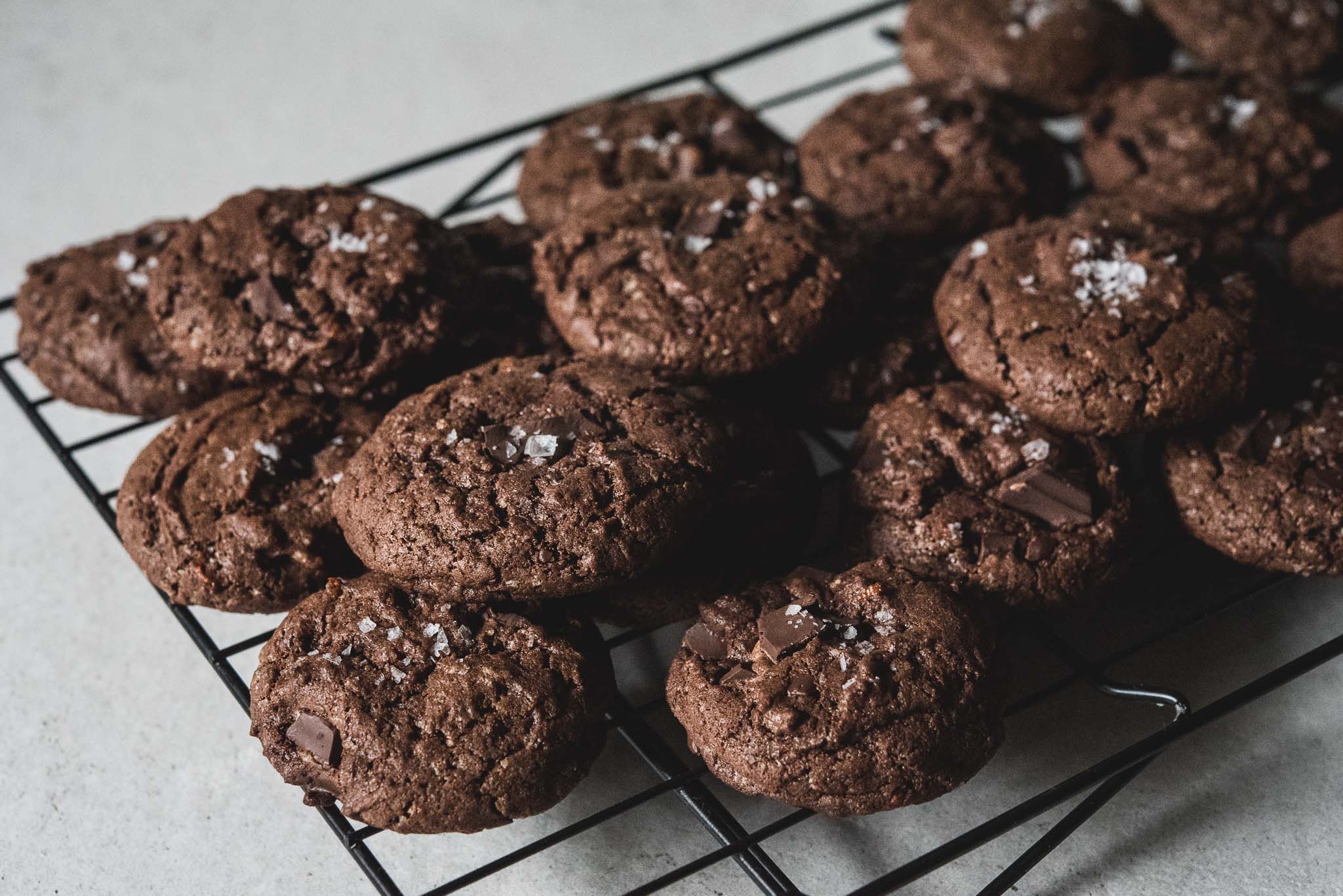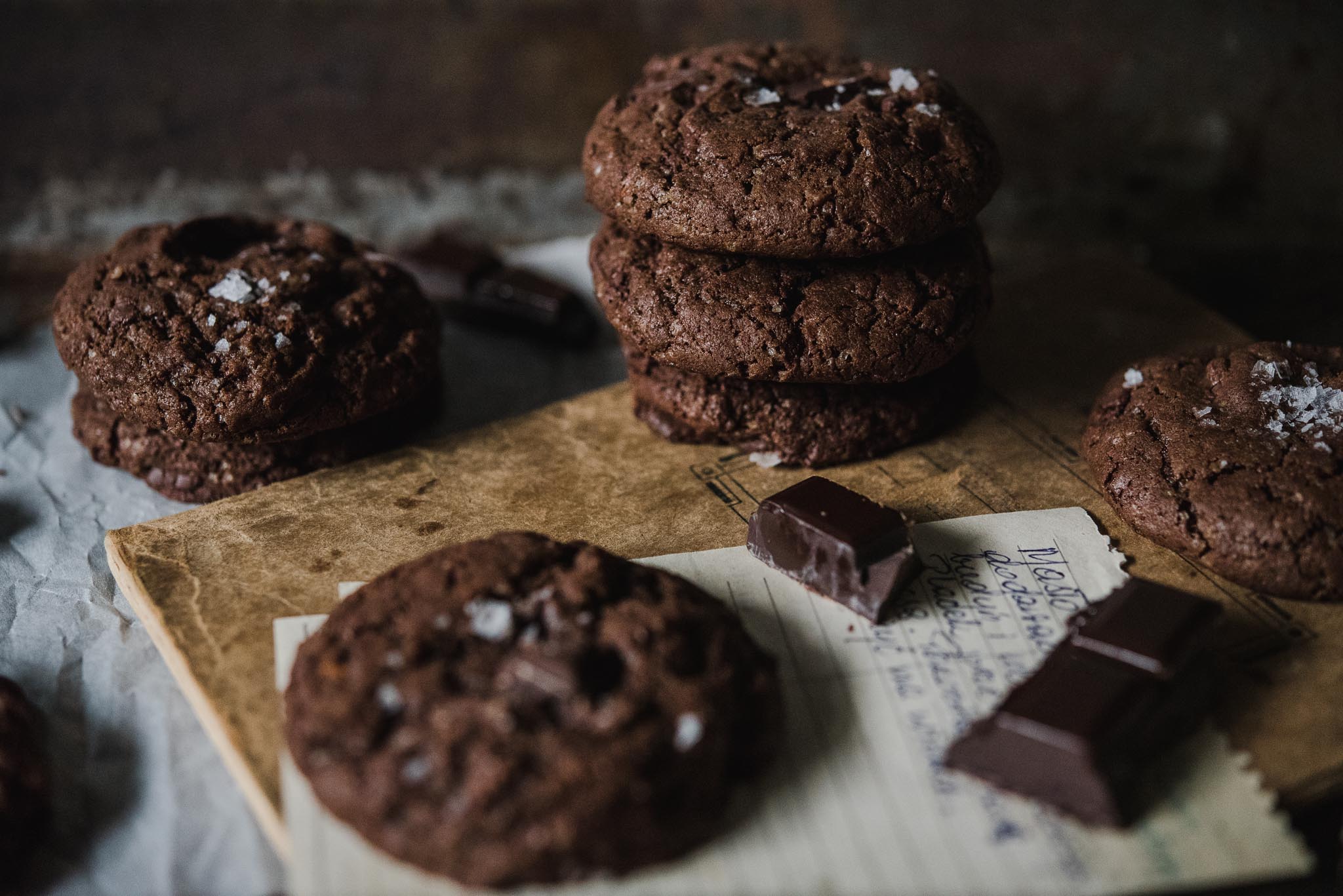 Makes about 35 cookies
1/2 cup good quality extra virgin olive oil
1/3 cup unsweetened non-dairy milk (I used soy milk)
2/3 cup dark brown sugar, packed
1/3 cup granulated sugar
1 tablespoon plus 1 teaspoon tapioca flour
1 teaspoon pure vanilla extract
1 1/2 cups all purpose flour, divided
1/3 cup Dutch process cocoa powder
1/2 teaspoon baking soda
1/2 teaspoon baking powder
1 cup (175 grams) vegan bittersweet chocolate chips
about 1/2 tablespoon sea saly flakes, for sprinkling