Borscht with Dried Prunes and Mushroom Dumplings
October 18, 2015
Borscht is a soup that is very common in Eastern Europe cuisine. You can find various recipes, a chunky version, with cabbage and beans, served with a dollop of sour cream - my childhood nightmare; cold, summer borscht blended with buttermilk or kefir, eaten with hard boiled egg and sprinkled with chives; or a clear ruby broth served with mushroom dumplings - in my home served always during Christmas Eve dinner.
Now days you can find instant red borscht with all the condiments in every polish supermarket. It is great option for busy housewives, but there is nothing more satisfying than borscht made from scratch.
As a child I really didn't like that soup, I almost cried over my plate. But times have changed, and right now I would give so much to have a bowl of the ruby soup made by grandma. Probably today I would eat even a cactus if she gave it to me ; )

Franny was a wonderful woman...
NOTES :
- beetroot sour gives that wonderfully sweet and sour flavor to the borscht. It is made by covering pieces of raw beets with lukewarm parboiled water and allowing bacteria to ferment some of the sugars present in beets. It takes about a 1-3 weeks to make and it can be stored in the refrigerator for few months. You can find ready made beetroot sour in Easter European delis.
- Soak the mushroom in water over night. Place the dried mushroom in the medium bowl and cover with 2 l of water.
- I used small bio beetroots in this recipe. I peeled them and boiled them in the salted water, and instead of vegetable stock I used the water I cooked beets in.
- Some times I also add sliced fresh ginger and sumac to the borscht, but this is already my personal invention.
Beetroot Sour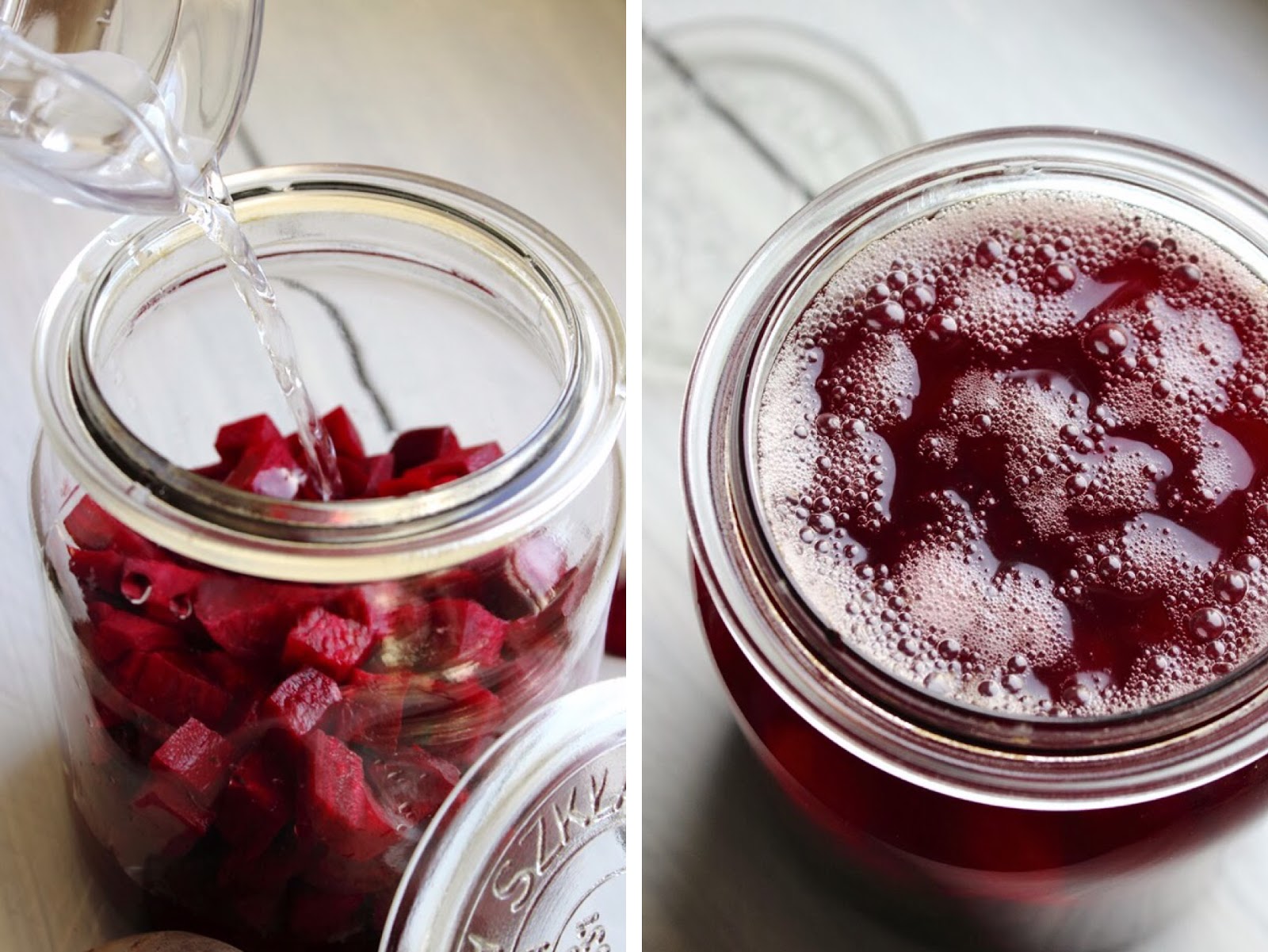 1 kg raw beets
3 garlic cloves
1 tbsp salt
1 laurel leaf
2 peppercorns
3-4 cups lukewarm, parboiled water
large glass jar, or two smaller
Peel and wash the beetroots. I recommend using plastic gloves and an apron for that dirty job.
Cut the beets in large chunks and place them tightly in the jar, add garlic, laurel leaf and the peppercorns. Pour in the water mixed with salt to completely cover the beetroots.
Place the lid on top of the jar and let it sit in the room temperature for minumum 1-3 weeks. You will sea foam forming on the surface of the water, that means the magic is happening.
After the days have passed open the jar, clean the foam, and strain the liquid into clean glass bottle or a jar. It will keep for few months.