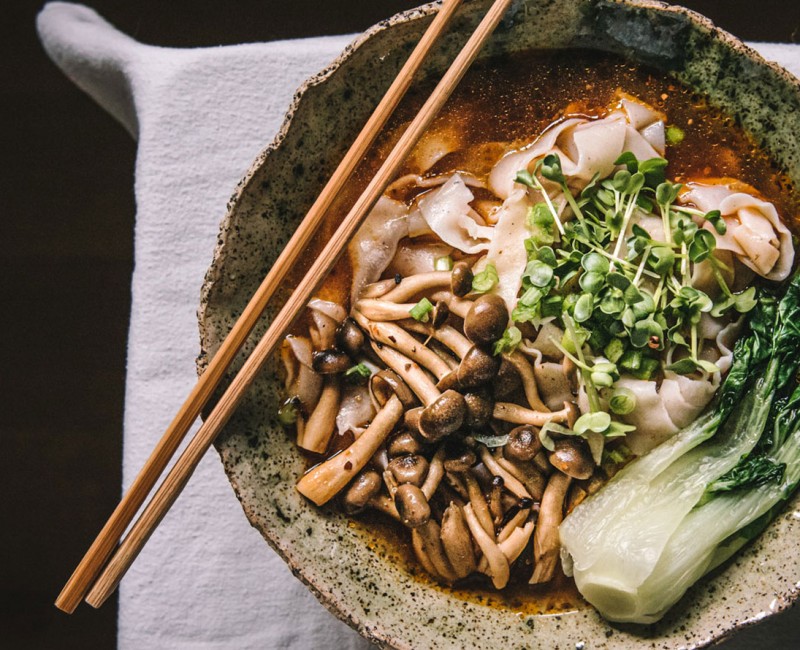 Taiwanese style broth.
January 16, 2022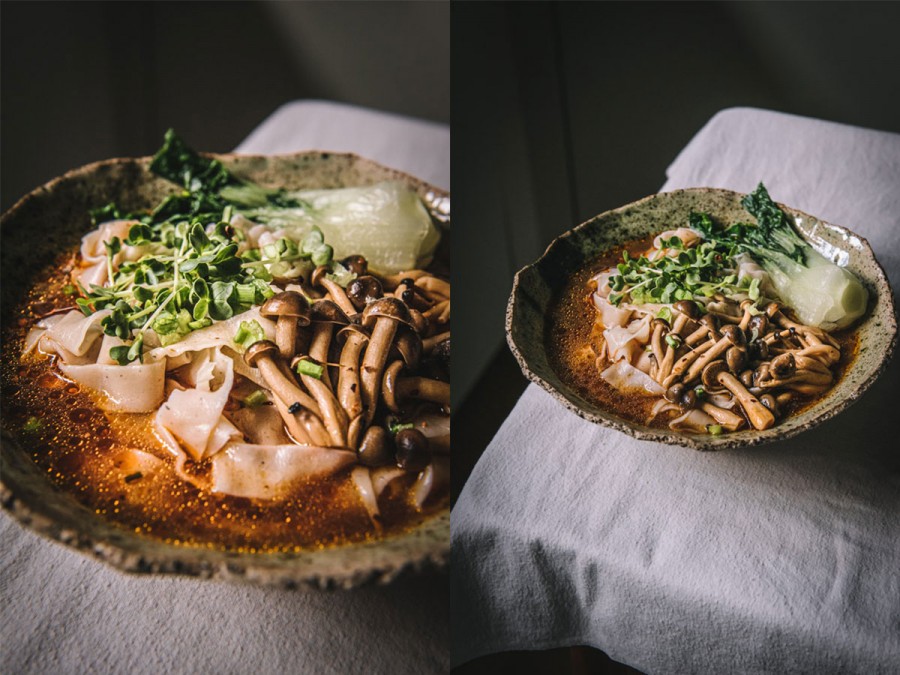 serves 4
up to 2 hours
1 about 8cm piece cinnamon bark
2 whole star anise pods
1 teaspoon whole fennel seeds
1 teaspoon whole coriander seeds
1-2 teaspoons whole Sichuan peppercorns (depends on how spicy/tingly you like your food)
3 small hot dried chiles (I used Chinese dried chilies)
2 plum tomatoes (roughly chopped), or 1 tablespoon tomato paste
few garlic cloves (4 minum), crushed
5 cm piece fresh unpeeled ginger, thickly sliced
3 scallions, trimmed
2 tablespoons Shaoxing wine
4 cups homemade or store-bought mushroom stock
1 large dried bay leaf
1 tablespoon dark brown sugar
Salt, to taste
neutral oil for cooking
For serving:
noodles
dumplings
steamed boy choy
steamed shimeji mushrooms
fresh cilantro
fresh daikon cress
Chinese black vinegar (up to 1 teaspoon per serving), to add a little acidity
METHOD
Heat 1 tablespoon of oil in a medium-size pot (about 2 liters), add tomatoes, garlic, ginger, and scallions. Cook, stirring frequently until the vegetables are starting to brown around the edges and the tomatoes are falling apart. (I like to char my vegetables for deeper flavor).
Add cinnamon bark, star anise, fennel seeds, coriander seeds, Sichuan peppercorns, chiles, and cook, stirring for a couple of minutes.
Add Shaoxing wine, mushroom stock, brown sugar, and bay leaf. Bring to a soft boil, and then lower the temperature, and simmer for about 15 minutes. Turn of the heat and the broth steep for an hour to infuse all the aromatics.
Strain the broth, discard the vegetables and spices, you won't need them anymore. Reheat the broth and serve with toppings of your choice. The broth itself will keep in the fridge for up to 5 days. I always cook a double portion and freeze it in small containers.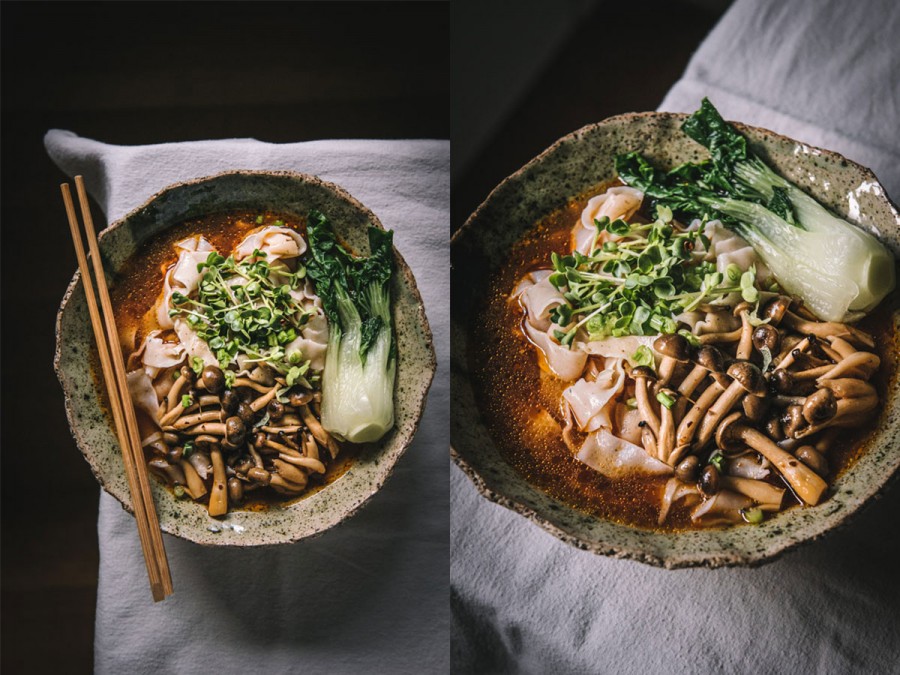 Enjoy!
serves 4
up to 2 hours
1 about 8cm piece cinnamon bark
2 whole star anise pods
1 teaspoon whole fennel seeds
1 teaspoon whole coriander seeds
1-2 teaspoons whole Sichuan peppercorns (depends on how spicy/tingly you like your food)
3 small hot dried chiles (I used Chinese dried chilies)
2 plum tomatoes (roughly chopped), or 1 tablespoon tomato paste
few garlic cloves (4 minum), crushed
5 cm piece fresh unpeeled ginger, thickly sliced
3 scallions, trimmed
2 tablespoons Shaoxing wine
4 cups homemade or store-bought mushroom stock
1 large dried bay leaf
1 tablespoon dark brown sugar
Salt, to taste
neutral oil for cooking
For serving:
noodles
dumplings
steamed boy choy
steamed shimeji mushrooms
fresh cilantro
fresh daikon cress
Chinese black vinegar (up to 1 teaspoon per serving), to add a little acidity