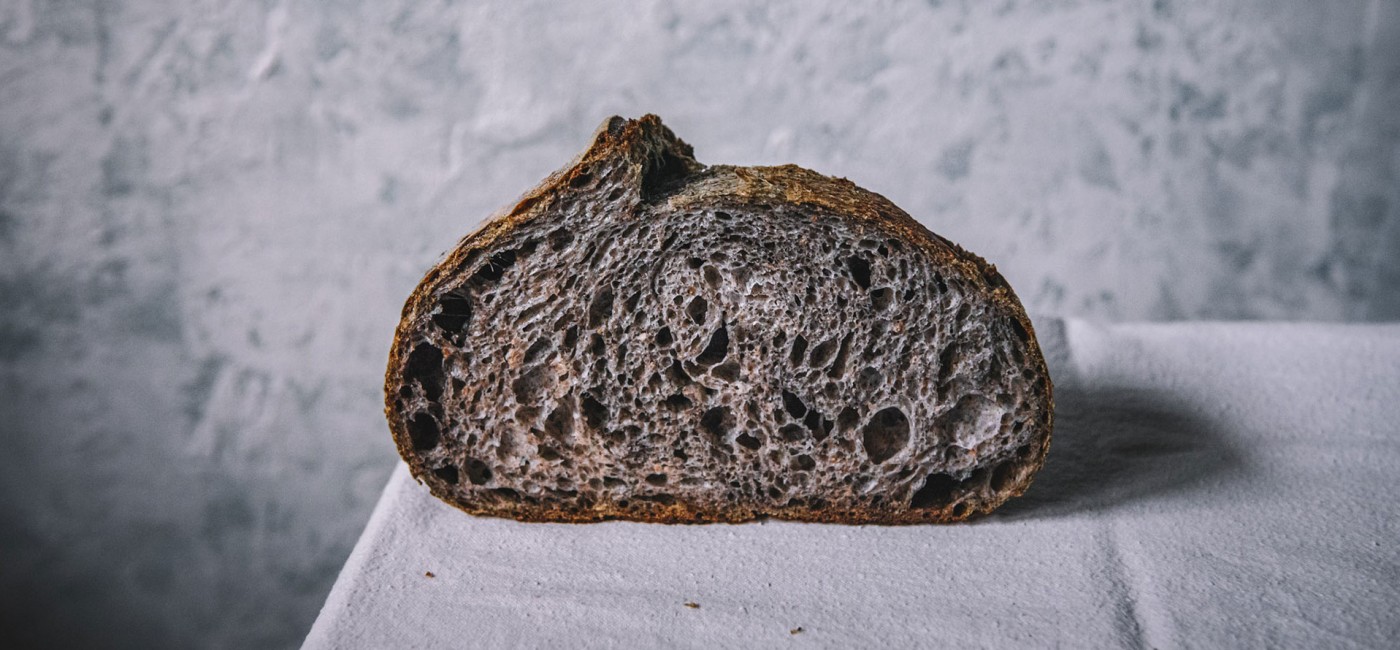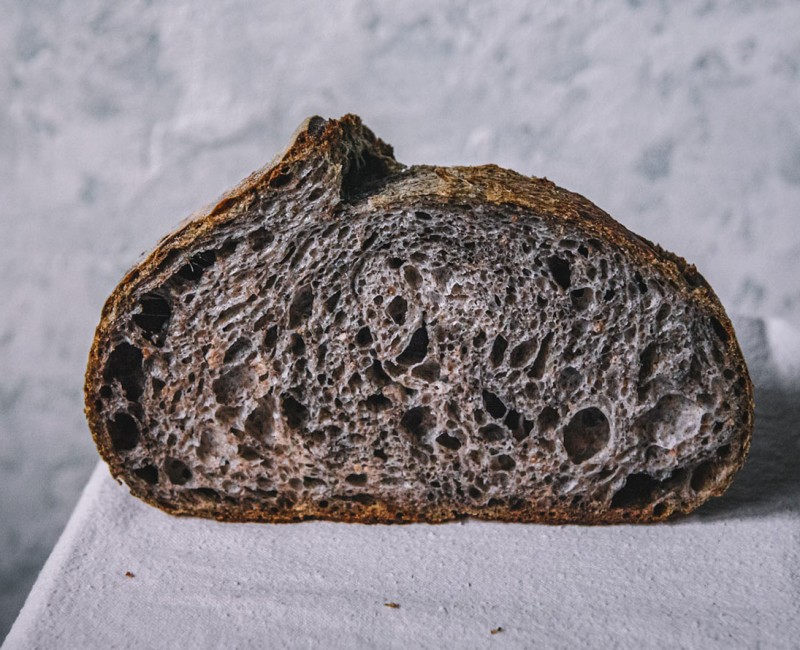 Black Sesame Sourdough
January 01, 2022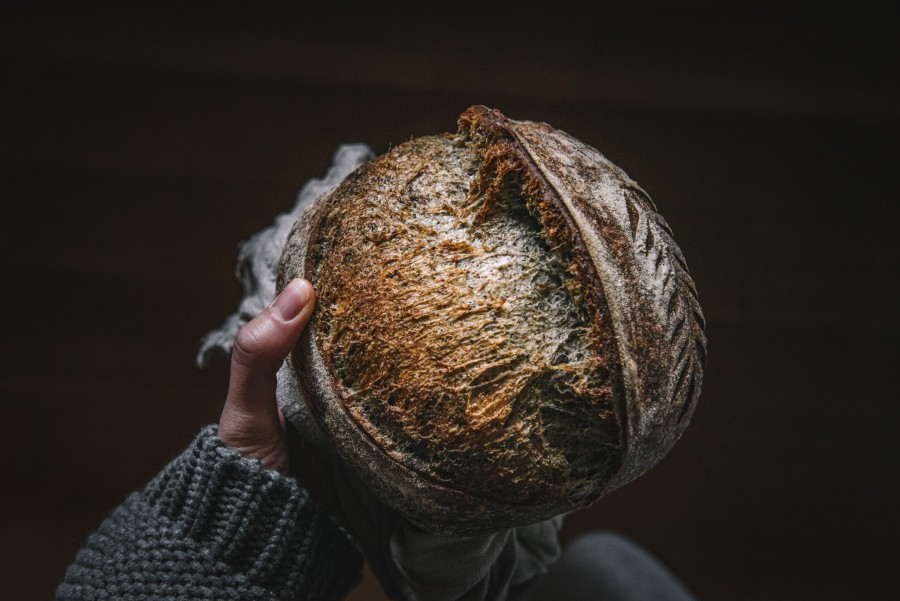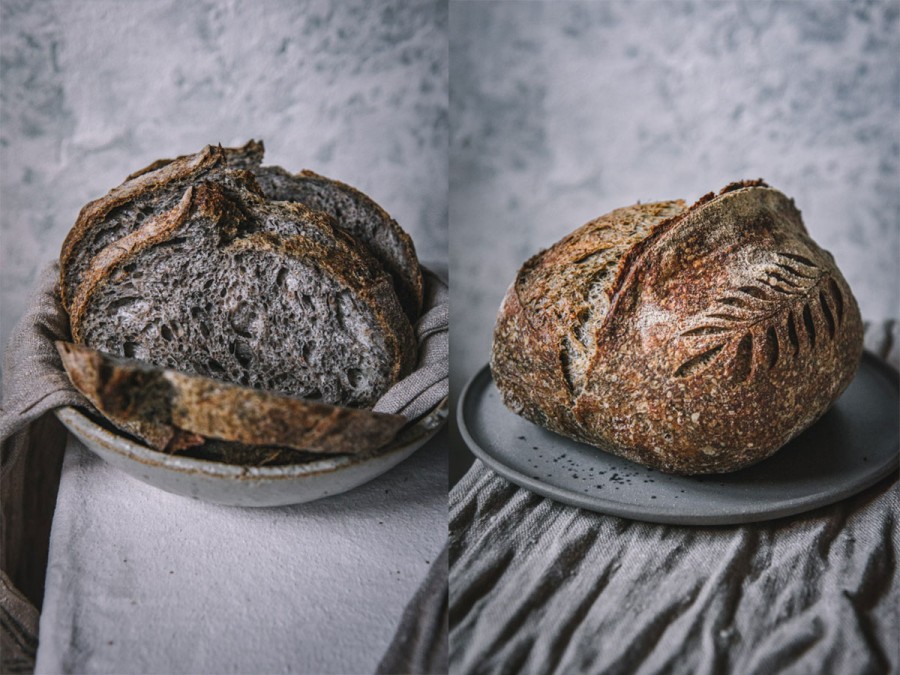 METHOD
1. Levain - before you go to bed
Build the Levain. Mix all the ingredients listed in the Levian build, cover loosely and let it ferment overnight. Levain needs about 8-10 hours at room temperature until it reaches its peak (at least triples in volume).
2. Autolyse - next morning
In a bowl of a stand mixer mix together bread flour, whole grain flour and water, until there are no dry bits. Cover the bowl and let it sit at room temperature for 1-3 hours (minimum 30 minutes). During the autolyse flour absorbs the water, becoming fully hydrated. This will activate gluten development. Don't skip this part.
3. Mix the dough
Add the levain to the bowl with autolysed dough. Mix on low speed for 5 minutes, until incorporated. Cover the bowl and the dough rest for 30 minutes.
4. Mix in salt
Add salt, turn the mixer on medium speed and knead the dough until it pulls away completely from the sides and bottom of the bowl, and becomes smooth and shiny. Cover the bowl and let the dough rest for 30 min.
5. Lamination/adding sesame powder
Spray your work surface with water, wet your hands to perform lamination. Lamination is the process of stretching the dough as thin as you can without ripping it. Sprinkle the black sesame seed powder all over the dough, fold over itself. Place the dough in the bowl, cover, and it let rest for 45 minutes.
6. Bulk fermentation
During the bulk fermentation perform 3-4 sets of stretch and folds. Let the dough rest 45 minutes (covered) between sets. After the last set of stretch and folds let the dough rest for 1 hour.
The dough will rise (50-60%) and you will notice some bubbles on top and sides of the dough.
7. Shape
Lightly flour the top of the rested dough, flip it over and shape into a boule or batard. Once shaped, transfer the dough into well dusted with rice flour proofing basket.
8. Proof
Cover the basket with reusable plastic bag or plastic shower cap. Place the basket in the refrigerator and proof overnight (12-16hrs).
9. Bake
Place your dutch oven cooker in the oven, and preheat the oven to 250ºC.
When to oven reaches 250ºC, put on the kitchen gloves, VERY CAREFULLY take the dutch cooker out of the oven, and turning the basket upside down carefully place the dough into the hot pan. Score the loaf with a sharp knife, a razor blade, or a lamé with a design of your choice.
Cover the Dutch oven with the lid, transfer back to the oven. Bake the bread for 15 minutes, and then, carefully take off the dutch oven lid and bake for additional 20 minutes.
Let it cool on a wire rack. Perfectly baked bread should sound hollow when tapped on the bottom.