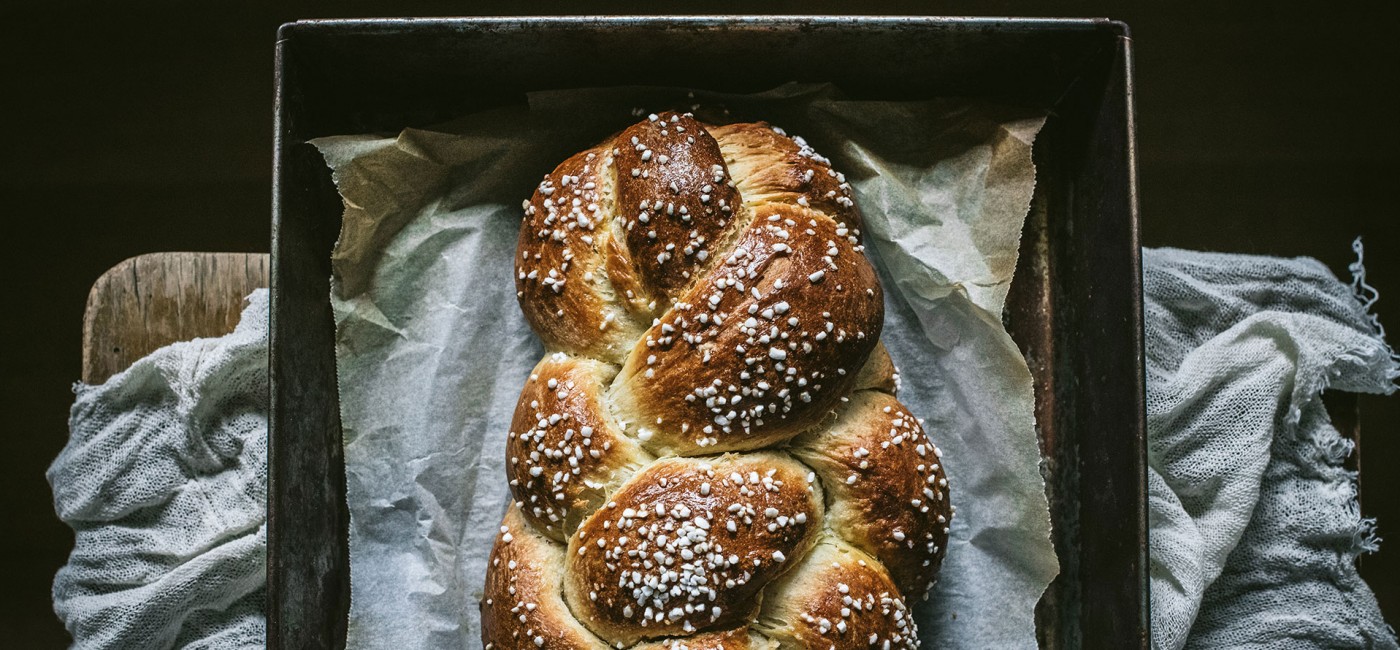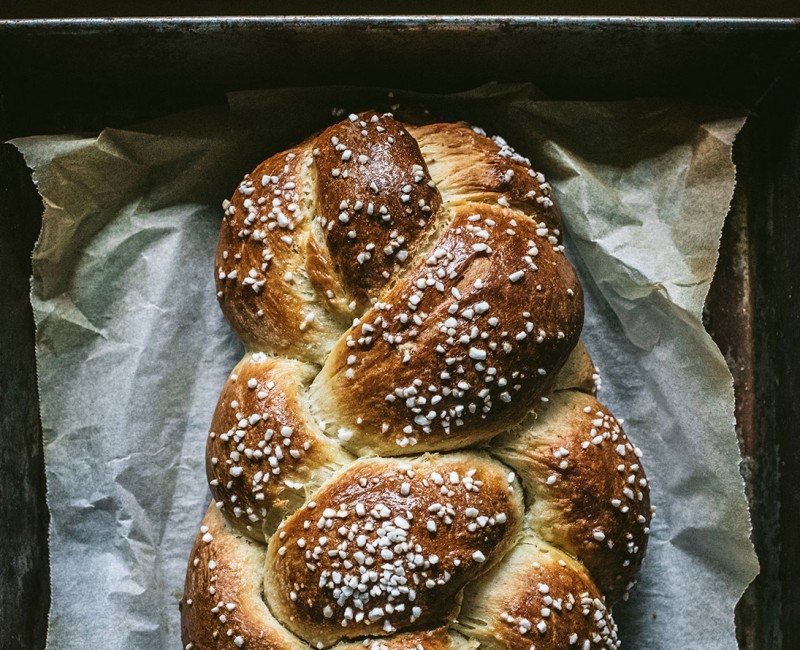 Sourdough Tsoureki
April 17, 2020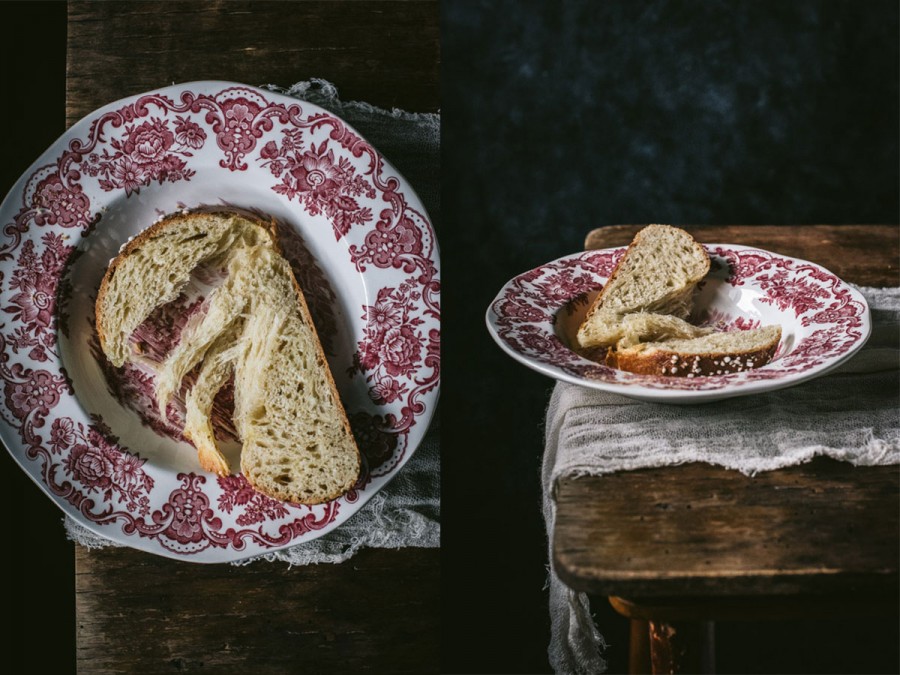 Levain
100 g mature sourdough starter
35 g bread flour
35 g whole wheat flour
70 g warm almond milk (or regular milk)
15 g fine sugar
Dough
350 g bread flour
1 teaspoon salt
100 g butter
30 g condensed milk
90 g sugar
1 teaspoon mahlep
1 teaspoon cinnamon
½ teaspoon cardamom
Zest of one medium orange
2 eggs, room temperature + 1 egg for glazing the loaf before baking
Almond flakes or pearl sugar, for sprinkling (optional)
METHOD
1. Levain build - 13:00
Place all ingredients listed in levain section into a bowl, mix well to a paste consistency, cover loosely and place in a warm place (25-26C) to ferment for 4 hours.
After 4 hours your levain should be bubbling. If not let it ferment for 1 more hour.
2. Prepare the butter mix - 16:30
30 min before the lavain is ready, in a small saucepan melt the butter. Once the butter has melted, remove from the heat and mix in sugar, spices and orange zest. Set aside to cool slightly. When the sugar mixture has cool down, whisk in the eggs and condensed milk, and mix until combined.
3. Mix the dough - 17:00
In a bowl of a stand mixer fitted with a hook attachment place the flour and salt. Add the levain, sugar mixture and knead on a low speed until all comes together into a sticky dough. Cover the bowl and let the dough rest for 30 minutes.
4. Knead the dough - 17:30
After 30 minutes, turn the mixer on medium-high speed and knead the dough until it pulls away completely from the sides and bottom of the bowl, and becomes smooth and shiny. That may take 10-15 minutes.
Transfer the dough to a clean bowl, cover and place in a warm place to proof for 4 hours.
5. Warm bulk fermentation (proofing) - 17:45 to 21:45
During the first couple of hours perform 3 sets of stretch and folds. Let the dough rest 30 minutes (covered) between sets. After the 3rd set of stretch and folds let the dough rest for the remaining time. The dough should have risen in the bowl during the 4 hours of fermentation. It should be a little puffy.
6. Cold bulk fermentation 21:45 to 7:00 next morning
Place the covered bowl with the dough into the refrigerator for overnight cold fermentation.
7. Shape - 7:00
Take the dough out the fridge, remove from the bowl and place it onto a lightly floured counter. Divide into 3, 4 or 5 equal pieces. Roll out each piece of dough into a sausage shape, making the ends a little thinner. Braid the dough into desired shape loaf.
8. Proof - 7:30 to 13:00
Place the loaf onto a baking sheet lined with a baking paper. Cover and let it proof for about 6 hours.
9. Preheat the oven - 12:15
Preheat the oven to 230°C and place deep roasting pan at the bottom of the oven.
10. Bake - 13:00 to 13:40
Brush the top off proofed tsoureki with egg wash, sprinkle with almond flakes or pearl sugar, and place the baking sheet in the preheated oven. Carefully pour a cup of water into the preheated roasting pan which you have placed on the bottom of the oven. Lower the temperature to 180°C and bake until golden brown, about 30-40 minutes.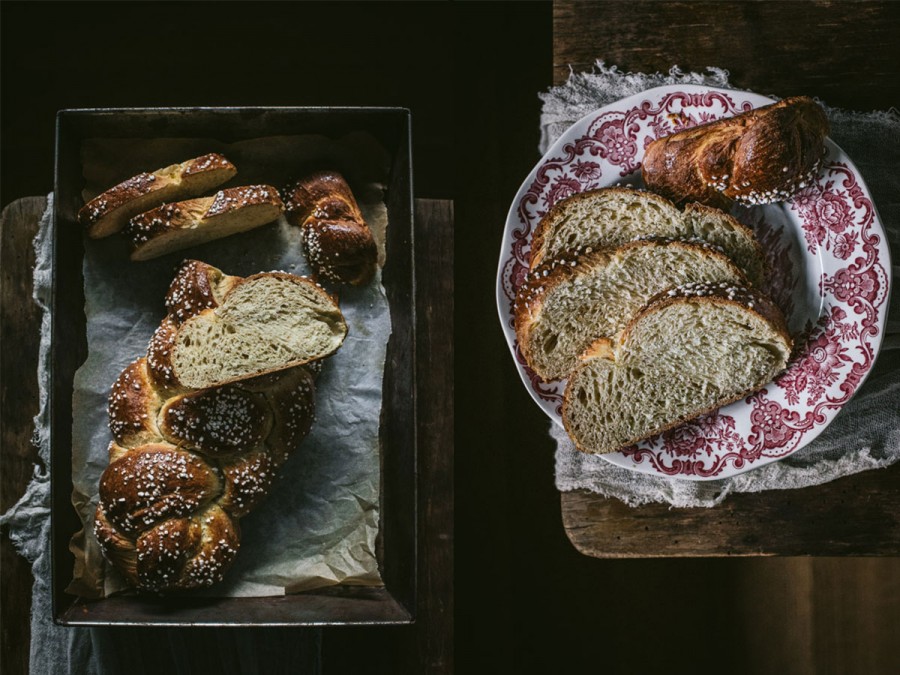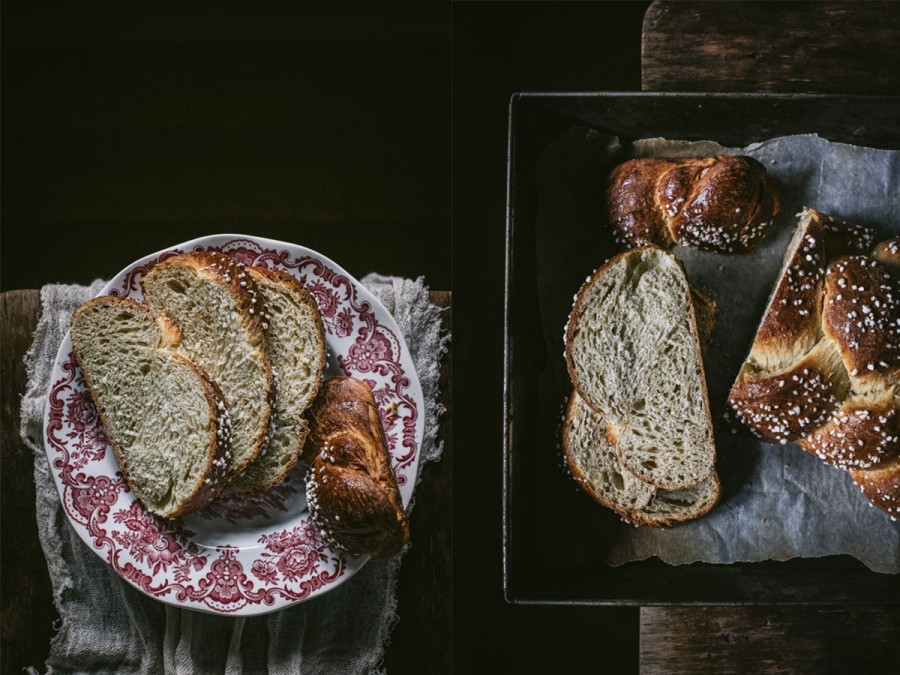 Levain
100 g mature sourdough starter
35 g bread flour
35 g whole wheat flour
70 g warm almond milk (or regular milk)
15 g fine sugar
Dough
350 g bread flour
1 teaspoon salt
100 g butter
30 g condensed milk
90 g sugar
1 teaspoon mahlep
1 teaspoon cinnamon
½ teaspoon cardamom
Zest of one medium orange
2 eggs, room temperature + 1 egg for glazing the loaf before baking
Almond flakes or pearl sugar, for sprinkling (optional)